Definition of IR:
"A clinical doctor who performs image guided procedures, fully interprets the imaging required to guide and monitor response of those procedures, as well as provides the pre and post procedural care for those patients receiving imaged guided surgery procedures."
The BSIR is a charitable foundation founded to promote and develop the practice of Interventional Radiology.
What are the main objectives of the society?
To support and develop access to high quality information on Interventional Radiology for patients and all healthcare professionals.
To support audit and research in Interventional Radiology
To support education and training in Interventional Radiology
What is our structure?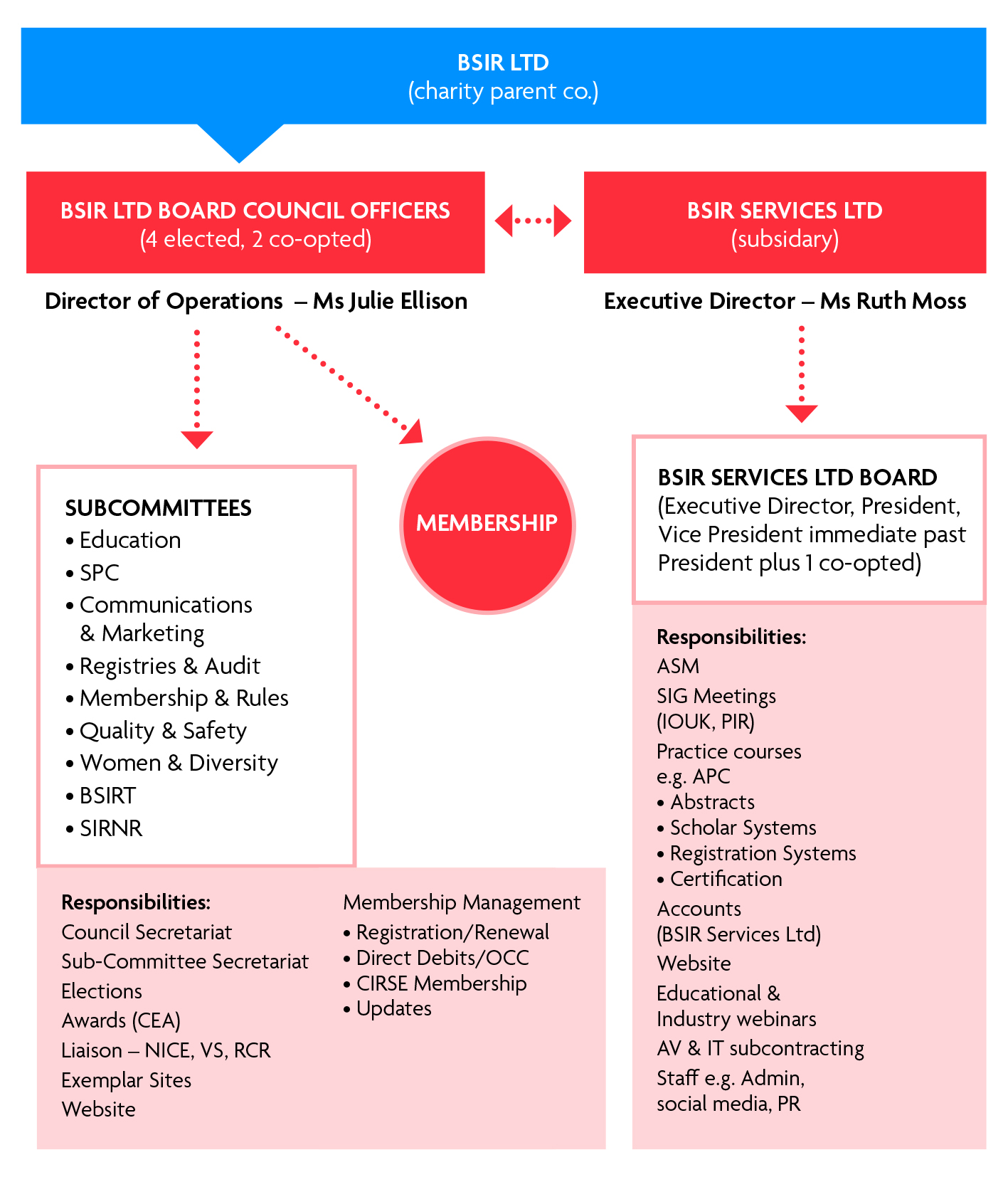 | | |
| --- | --- |
| Executive Committee | President, Vice President, Treasurer, Secretary, Past President |
| Full Council | BSIR Council Officers and Chair of each Sub Committee |
| BSIR Team | Marketing Assistant |
| Sub Committees | |
| | |
| | |
| | |
| | |
| | |
| | |
How do we work?
The society is regulated by a constitution, click here to view. Amendments to this constitution can only be made by a vote at the Annual General Meeting of the society which is open to all members of the society. The executive committee of the society is the BSIR Council who work to support the aims expressed in the constitution and develop strategic objectives for the society which are annually reviewed. Day to day decisions are taken by the BSIR Council officers; the President, Vice President, Secretary and Treasurer.
How can I become a member?
Full membership is available to any healthcare professional. Full Membership incurs a subscription fee of £220 per annum, Junior Membership £100 per annum and Associate Membership is available to nurses and radiographers who are members of SIRNR £25 per annum. Further information on Membership can be found on the Members page. Please direct any membership enquiries to admin@bsir.org or click 'Apply Now' to become a member now: