BSIR Meeting Microsite
Here you can find some useful information about the ASM meeting Microsite and how to use it.
Microsite:
We have just launched a microsite for the BSIR annual meeting optimised for mobile phones. This is very like a meeting app, but better suited to our needs.
The advantages of the microsite over an app are that it directly links to our membership database, can be accessed from any device, android, apple, windows etc. The only slight disadvantage is you need an internet connection for it to work fully. Modern conference venues all provide this.
The microsite has only just been launched and we do anticipate teething problems, so please bare with us throughout the meeting if it doesnt work entirely as we anticipate or as you would like. We will be modifying it over the next few years to try to make it the best way to get all your meeting information. We will also be using the microsite for other meetings such as IOUK in future.
Add the microsite to your phones home screen:
Instructions on how to do this
Features: You must login with your bsir website email address and password to access all features
Programme guide, viewable by day, happening now, session type, subject, location
Each item in the programme can have notes added to it, be added to 'my programme' and be shared via email or social media.
Sharing: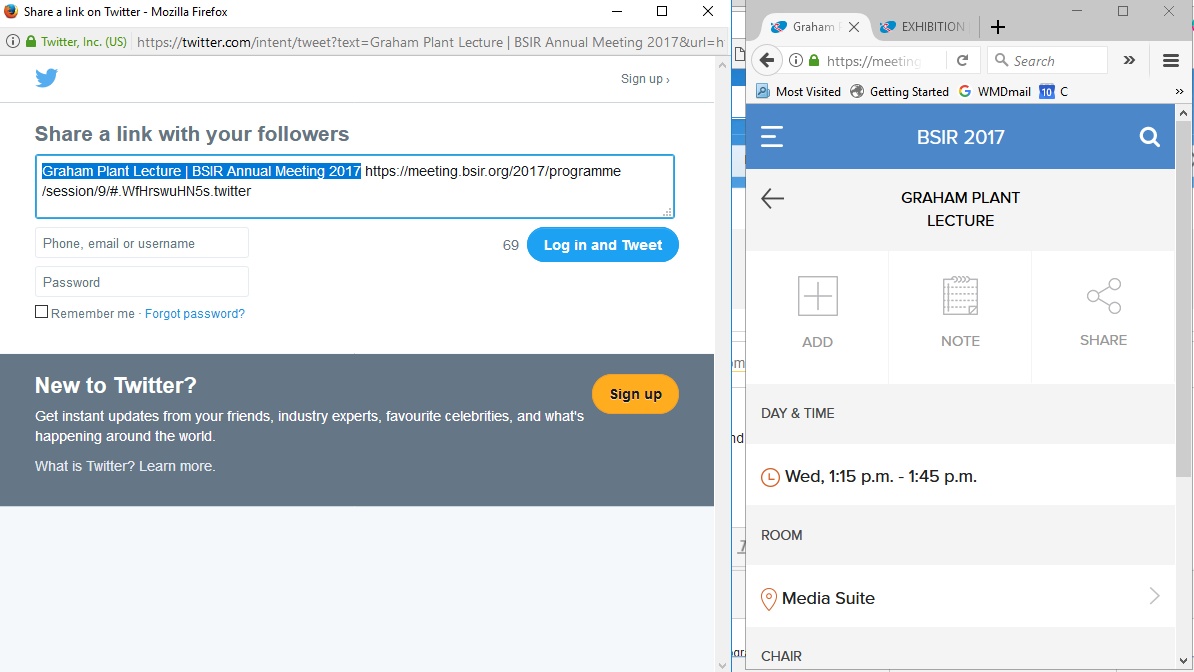 My programme, here you can see sessions you have added via the 'add' button on a daily basis.
Exhibitors, lists all exhibitors
Floor plan of exhibition hall which can be zoomed in.
There is a menu that pops out on the left hand side by clicking:
This gives you more options including the option to VOTE:
YOU MUST BE LOGGED IN TO VOTE.
The voting becomes live during the AGM at 1500 and allows you to vote on the main motion of the AGM for 24hrs.
You can also access the voting tab by clicking the link in the AGM section of the programme beneath the committee reports.
You can vote on the motion even if you are not attending the meeting by using the microsite.
We hope you enjoy the meeting and the new microsite helps to improve the experience.
Best wishes
Phil Haslam and the BSIR comms committee
Hilary White
Richard Miles
Brian Steadman
Alfred Tan
Sebastian Mafeld