BSIR ASM 2022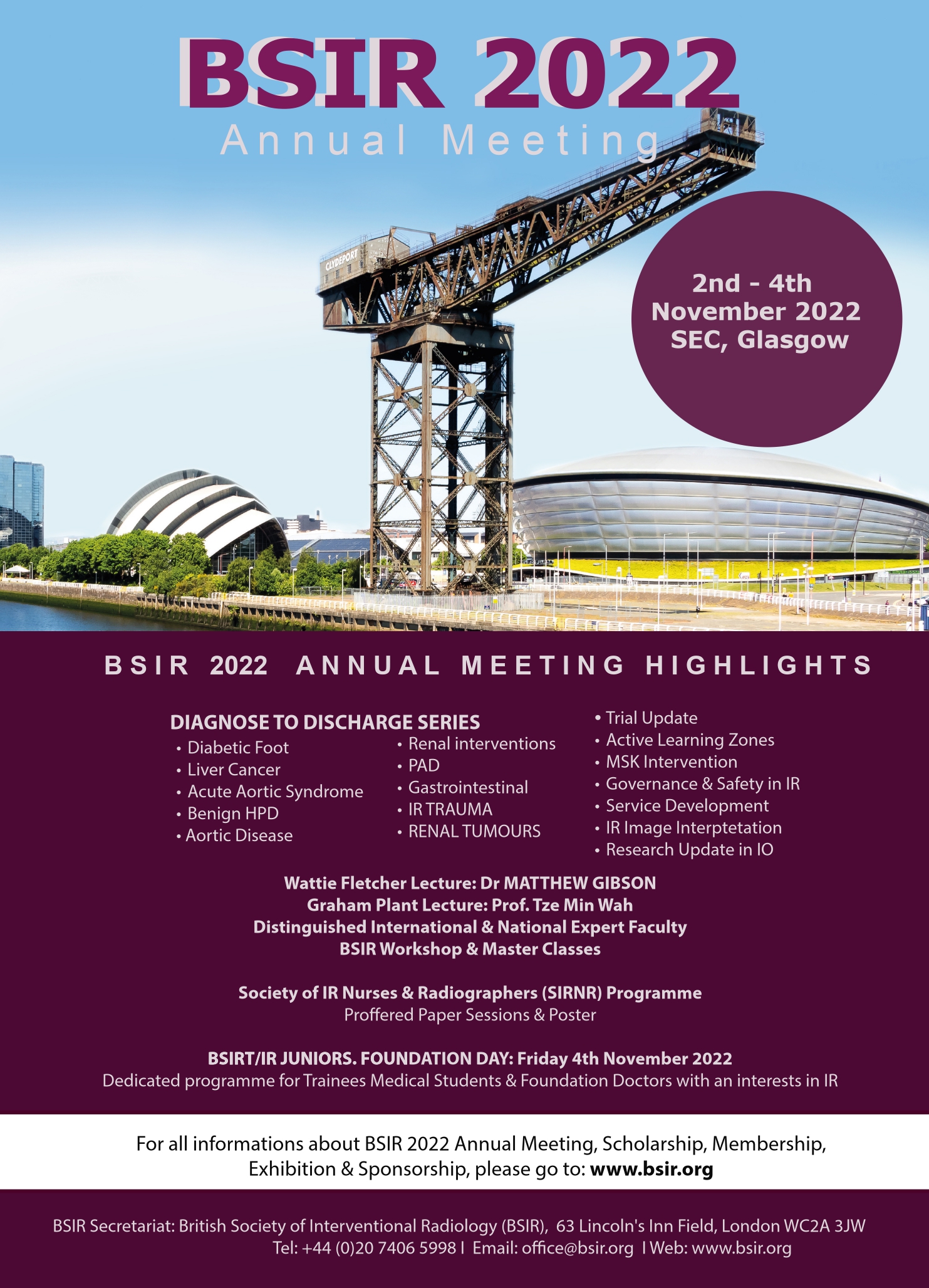 BSIR ASM 2021 Highlights
Welcome to the British Society of Interventional Radiology (BSIR) Annual Scientific Meeting (ASM) 2022!
We are so excited and glad to have you join us in what we feel is a very exciting programme.
Continuing with the hybrid theme of last year, we are hoping to bring you both national and international speakers both in-person and virtually allowing us to hear and learn from key opinions in IR.
New to the BSIR 2022 ASM programme is the Diagnosis-2-Discharge Series where not only do we look at the technical aspects, but also the work-up and follow-up imaging in patients with a special focus on multidisciplinary working.
For the first time, sessions have been assigned learning objectives, so delegates know what to expect when attending each session.
This year, you will notice a special icon next to many of the sessions. This indicates content from the RCR IR curriculum so trainees can get maximum benefit from the programme.
Highlights this year include Back in my day…This is how it was, where legendary IRs share their stories from the good old days. This year's Quiz Pointless IR feature WIIGS and Robbers where the female IRADs face the Rob's in the world of IR.
We feature trauma, aortic and peripheral sessions as well as an exciting interventional oncology program. The ASM favourites are back: Active Learning Zone, Masterclass and industry led sessions where delegates will get hands-on and interactive experience led by experts.
This year's Gold Medal will be awarded to Dr Trevor Cleveland and the Wattie Fletcher lecture will be delivered by Dr Matthew Gibson, who we are also excited to welcome into the Scientific Program Committee.
Returning for her second Graham Plant Lecture, Prof Tze Wah will no doubt wow us again with her knowledge of the world of IR.
And last but by no means least, this programme and ASM would not be possible without the endless dedication, hard work and collaboration of the faculty, industry partners and delegates supporting the BSIR. Huge thank you to you all.
With thanks
Dr Elika Kashef
Consultant Interventional Radiologist, Imperial College NHS London
BSIR Scientific committee Chair
---