BSIR ADVANCED PRACTICE COURSE 2022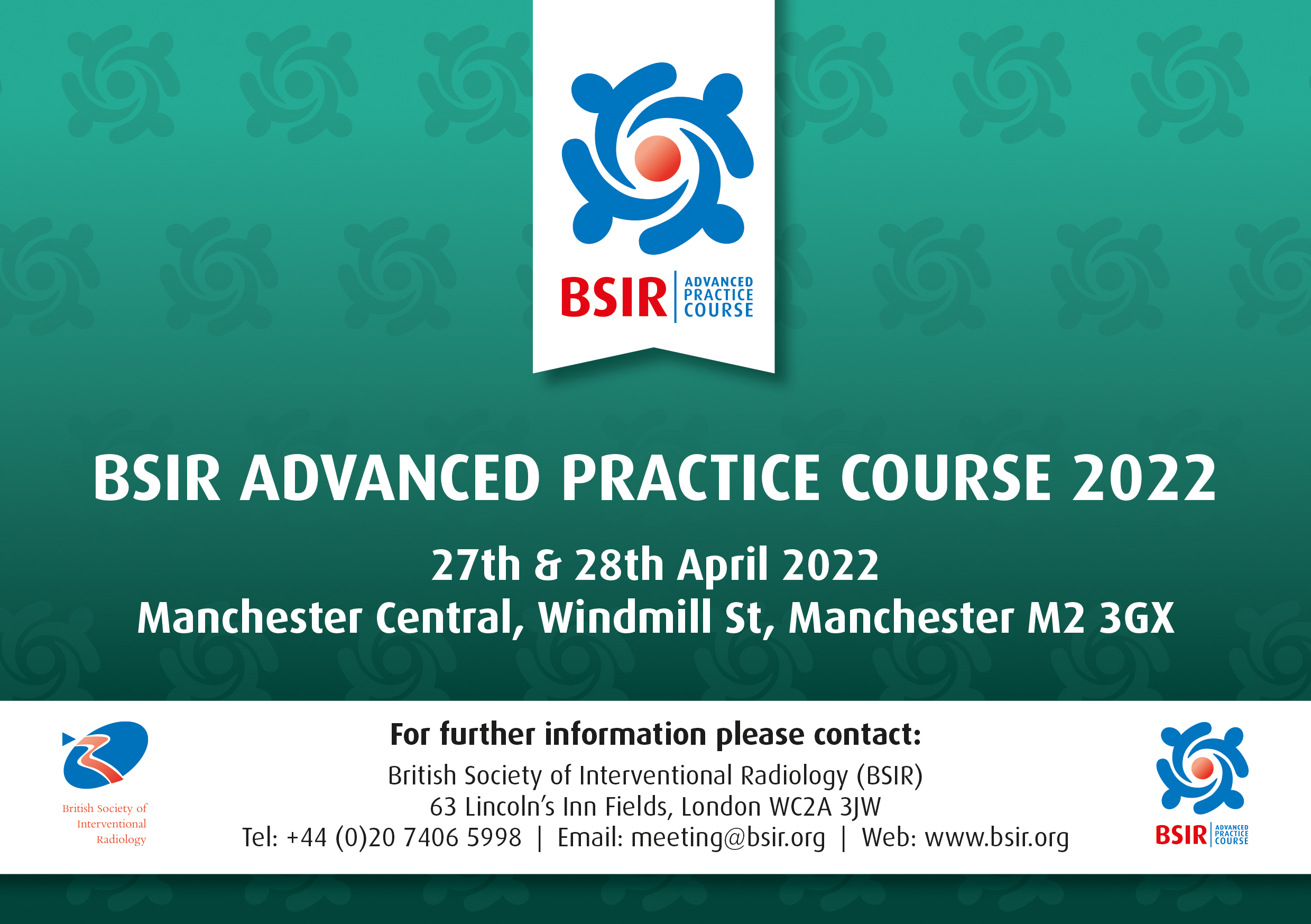 Welcome to BSIR Advanced Practice Course 2022
Having been postponed for 2 years, we are excited to hold the new British Society of Interventional Radiology (BSIR) Advanced Practice Course (APC) on 27th and 28th April 2022 in Manchester.
This year the APC will focus on aortic, peripheral vascular and venous interventions. We are delighted to have many experienced interventional radiologists as our speakers to cover topics on advanced techniques of endovascular repair of aortic aneurysm and trauma, carotid intervention, management of peripheral vascular disease, venous interventions including difficult vascular access and evolving endovascular treatments for deep vein thrombosis and pulmonary embolus.
The course will comprise of hands-on workshops where new interventional devices would be showcased. Participants would have lots of opportunities to practice on these devices and simulation models. There will also be one-to-one sessions for participants to discuss difficult consent and complex cases throughout the two days.
We welcome all Interventional Radiology Trainees - ST6, Fellows, Junior Consultants and Consultants who would like to renew and refresh their knowledge and skills in vascular interventional to join this face-to-face educational event.
We would like to thank all our faculty, industry partners and our BSIR team for your full support in the organisation and delivery of this practical course.
We look forward to meeting you soon.
Kind regards,
Dr Wing Yan Liu
Consultant Interventional Radiologist, University Hospitals Coventry & Warwickshire
BSIR Education & Research Committee Member
Dr Nadeem Shaida
Consultant Interventional Radiologist, Addenbrooke's Hospital
BSIR Education & Research Committee Chair
Dr Ganapathy Ananth Krishnan
Consultant Vascular and Interventional Radiologist, Manchester Royal Infirmary
Co-opted member for APC Committee
on behalf of the BSIR Education & Research Committee:
Dr Joo-Young Chun, Dr Chloe Mortensen, Dr Usman Mahay, Dr John Reicher, Dr Raghu Lakshminarayan (Council Rep)