Abstract Submission System 2019
The BSIR 2019 Abstract Submission System is OPEN!
Our Abstract Submission System is designed to allow our members and anyone with in an interest in IR or corresponding field to submit relevant work/research in the form of an abstract with the aim to then present said work at our Annual Scientific Meeting. Mirroring the previous year's format, there are several categories to submit with:
Oral presentation - 6 categories
Scientific poster presentation
Educational poster presentation
Submitting an abstract is a great opportunity to present and share your scientific work so please consider submitting your work or encourage your colleagues and departmental health care professionals to consider submitting.
We also accept and encourange Case Study and Essay submissions for those looking to obtain a BSIR funded Scholarship to attned our ASM.
To submit content for consideration or for more information, please select your content type:
Before submitting content, please read our Abstract Submission Information 2019.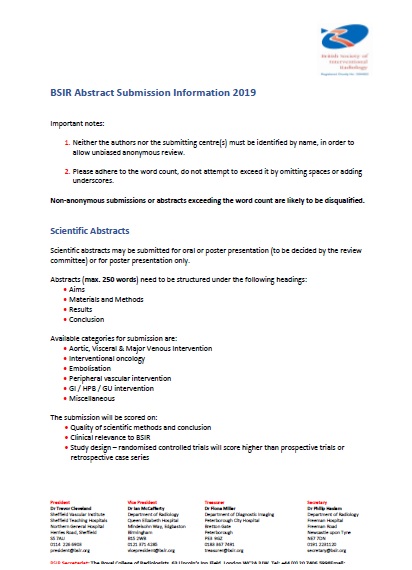 Please ensure your submissions are received before midnight on:
DEADLINES
Scientific/Educational Abstract - Extended
22nd April 2019
Case Study Scholarship
20th June 2019
Essay Scholarship
16th August 2019
Please note that all members will be notified via email when the case study and essay submission system is open.
For abstract related queries, contact us at: abstracts@bsir.org
We look forward to receiving your submission!