BSIR guidance regarding PPE use in IR in patients proven or suspected of COVID-19 Infection 27th March 2020
Created - 27.03.2020
The following is some guidance on the type of PPE that should be used when performing procedures on patients with suspected or proven COVID-19 infection. This has been compiled from documents produced by the WHO, Centre of Disease Control and Prevention (CDC), Public Health England (PHE) and American Society of Interventional Radiologists (SIR).
Infection control in COVID-19 is rapidly evolving and it is likely this guidance will change very soon. Please be alert for any changes from Government, PHE and your local team.
Interventional radiologists are likely to come into close contact with patients with COVID-19 and this may be for prolonged periods of time. It is vital that scrupulous adherence to infection control is maintained. PPE should be worn, including the correct type of mask and gown.
Contact will occur mainly in two locations:
Interventional radiology theatres
Intensive care units
General advice:
Surgical masks should be worn with all patient contact with patients proven or suspected of COVID-19. These are single use and should be fitted tightly minimising air gaps. They should be discarded if they become wet.
Filtering face piece (class 3) (FFP3) respirators
Patients coming to IR with COVID-19 who are ventilated should be considered at high risk of generating aerosol droplets. This is because they may become accidentally disconnected or require airway intervention such as suctioning.
Use FFP3 with eye protection. If this is not fluid resistant, then an additional face shield/eye shield should be worn. Xray leaded glasses alone are not sufficient eye protection.
The same protection should be considered when visiting the ITU to perform an interventional procedure because ventilated patients are cohorted in this environment. This equipment should be used in COVID-19 positive patients who are not ventilated as the risk of aerosolisation is highest.
All FFP3 masks should be fit tested prior to each use.
The American Society of Interventional Radiologists (SIR) WHO and CDC recommend a surgical N95 mask (we use FFP3 in the UK) for any prolonged contact with a patient with COVID-19 and therefore recommend it for Image guided Surgical (IR) procedures.
The same precautions should be undertaken in patients who are either proven or suspected of having COVID-19 infection.
Extreme caution should be exercised when putting on and removing PPE, including strict hand hygiene. The removal of PPE should follow routine consecutive steps, starting with gloves, apron and /or gown, eye protection and mask.
Please watch this video
https://www.youtube.com/watch?v=oUo5O1JmLH0
The risk of transmissions is highest with aerosol generating procedures (AGP)
The following should be considered AGP and require minimum gowns and gloves, FFP3 respirator, full eye protection (goggles or face shield)
Enteral feeding tubes of any type
Oesophageal/tracheal dilatation
Bronchial artery embolization
Lung/mediastinal biopsy
Procedures requiring intubation/extubation in IR
Combined IR and endoscopic procedures
Oxygen therapy with a face mask, any form of ventilatory assistance
Procedures performed on a patient with tracheostomy
Procedures where airway compromise or suctioning is likely, CPR is likely
Procedures that provoke respiratory difficulty or heavy coughing
Procedures that require the operator to be near to the airway e.g. Central lines
Fluid resistant surgical masks (FRSM)
The WHO and DOH suggest surgical masks be worn when within 1m of a patient with COVID-19 symptoms. Although, BSIR would recommend 2m perimeter if possible, to mirror the governments advice on social distancing.
It should be well fitted and cover both the nose and mouth.
This is an example of a FRSM: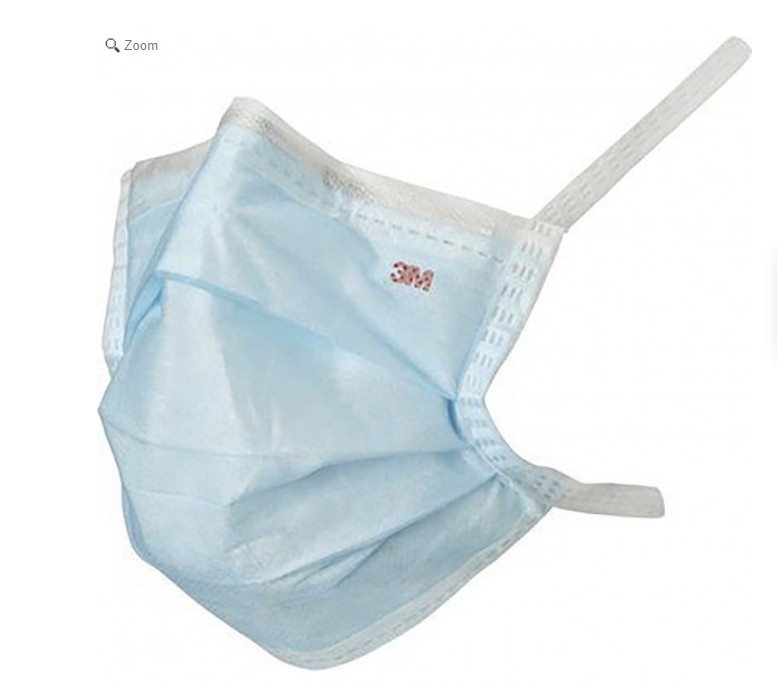 The BSIR offers this information as guidance only.
https://www.gov.uk/government/publications/wuhan-novel-coronavirus-infection-prevention-and-control
https://www.england.nhs.uk/coronavirus/publication/guidance-supply-use-of-ppe/
https://www.who.int/emergencies/diseases/novel-coronavirus-2019/technical-guidance
https://www.sirweb.org/practice-resources/toolkits/covid-19-toolkit/covid-19-faqs/
---